WOMA at IFAT 2024 in Munich
Visit WOMA at IFAT 2024. We are looking forward to inform you on our powerful and efficient High-Pressure Pumps, smart Ultra-High-Pressure System solutions as well as on our comprehensive portfolio of water tools for water jetting applications.
WATER AS A TOOL:
Smart ultra-high-pressure solutions for municipal and industrial water jetting applications
Experience WOMA high-pressure technology live at IFAT
WOMA ultra-high-pressure solutions with high-pressure pumps, units and water jetting tools are used in a variety of municipal and industrial applications. Experience a selection of WOMA high-pressure pumps, water jetting tools and smart solutions at our IFAT booth.

Reliable High-Pressure Plunger Pumps for every task
With decades of experience in high-pressure technology WOMA sets standards in the construction of diesel and electrically driven high-pressure plunger pumps. The WOMA pump portfolio ranges from 250 bar to 3,000 bar and is the basis for covering almost every customer requirement in the field of high-pressure water technology.

Efficient and powerful ultra-high-pressure units for highest demands and requirements
WOMA offers a wide variety of ultra-high-pressure unit solutions with reliable and powerful high-pressure pumps in various configurations and equipment variants. Our hot-water unit EcoTherm in the versions with 600 bar or 800 bar, our compact UHP all-rounder EcoMaster MK3 with operating pressures up to 3,000 bar or the high-performance large EcoMaster 700Z ZWG unit with integrated intermediate gear and automatic mode satisfy the highest demands and requirements in water jetting.
Individual tasks, requirements and installation options sometimes require special solutions. WOMA's engineering department is able to create special UHP-unit solutions for your application.
The combination of reliable and powerful WOMA units and the extensive portfolio of water tools ensures best possible solutions and results.

Safe water jetting tools for efficient cleaning of tanks, containers, pipes, heat exchangers and surfaces
You can see and experience a selection of our water jetting tools and accessories live at our booth.
High-pressure guns for all manual cleaning tasks
WOMA high-pressure guns can be used with operating pressures up to 3,000 bar. Moreover, they have a modular structure and can be flexibly extended by different nozzles and nozzle carriers.

Tank and silo cleaning
The TankMaster tank cleaning heads guarantee optimal cleaning results with minimal cleaning times thanks to a dense spray pattern. This ensures that your production process is interrupted as short as possible.

Water jetting tools for pipe and tube bundle cleaning
Water tools for removing deposits in pipes and tube bundles and for cleaning completely blocked pipes.

Surface cleaning
WOMA surface cleaning solutions are suitable for various surfaces and materials. The products provide highest working efficiency and maximum safety for the user.

The WOMA telematics-system: Worldwide availability with maximum data security.
With the WOMA telematics-system, you always have the machine data in sight: at any time, at any place. Full control with maximum data security. The WOMA telematics-system collects, transmits and evaluates the machine and operating data of your WOMA high-pressure units in detail. We would be pleased to present the solution to you personally.
IFAT: World's largest environmental technology
As the World's Leading Trade Fair for Environmental Technologies, IFAT very successfully showcases strategies and new solutions for using resources in smart cycles in water, sewage, waste and raw materials management to ensure they are preserved for the long term.
Around 2,500 exhibitors from more than 50 countries participated at IFAT 2022.

Key Facts and Data (IFAT 2018):
260,000 m² of exhibition space


3,305 exhibitors from 58 countries


142,472 visitors from 162 countries


Picture: IFAT 2018, entrance east, Messe München GmbH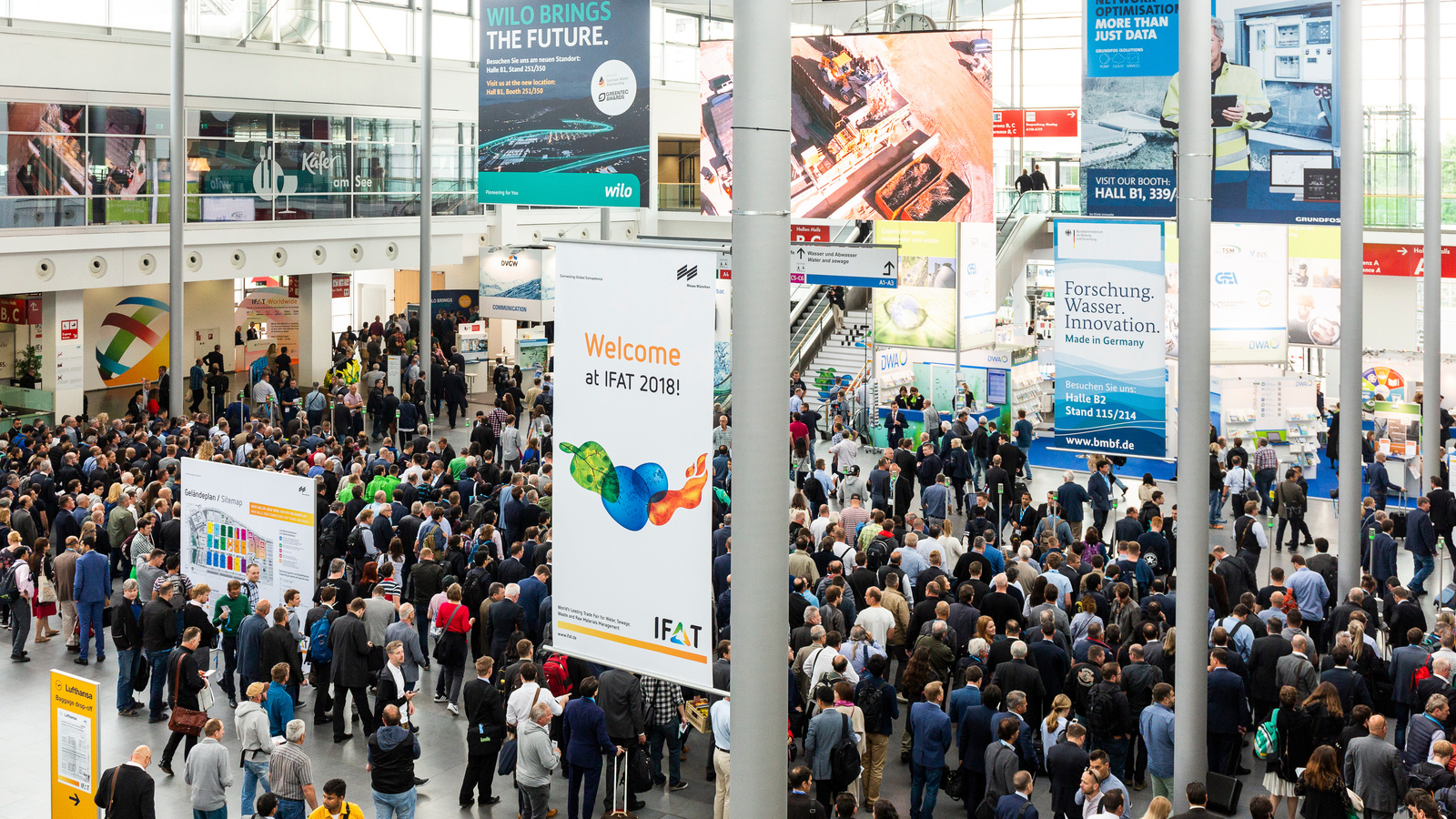 Whatever the task, we have the solution.
Visit us at IFAT 2022 in Hall C4, booth 505.
We are looking forward to your visit.