TANK WASH HEADS FOR FAST AND EFFECTIVE CLEANING OF TANKS AND CONTAINERS.
Internal cleaning is the main point of tank maintenance. In order to disrupt the production process as little as possible, a quick and thorough cleaning of storage tanks, reactor tanks etc. is crucial. WOMA tank wash heads fulfill this task quickly, safely and reliably. The external cleaning of tanks occurs primarily for avoiding corrosion or for visual reasons.
Tank cleaning with high-pressure water - The efficient and economical solution.
A dense as possible jet form of the tank wash head and its optimum positioning in the tank – without shadows – is required for ideal cleaning results and minimum cleaning times. Due to Atex certification for tank washing heads and positioning equipment, TankMaster is also the efficient and economical solution for tanks containing dangerous goods and tanks in potentially hazardous atmospheres.
TankMaster satisfies the requirements from users and cleaning services:
It can be inserted in all common vessel openings by one person without using lifting gear
Universally usable due to small size and low weight
Robust construction for rough site operation
The efficient solution for cleaning the outsides of steel tanks is the Magnetic Lizard. This high-pressure water tool with up to 3000 bar working pressure removes coatings of all types quickly, thoroughly and reliably. The Magnetic Lizard fitted with permanent magnets and gear motors moves horizontally, vertically and overhead on the outside wall – up to great heights – and saves time and cost-intensive scaffolding erection for inspection or dismantling.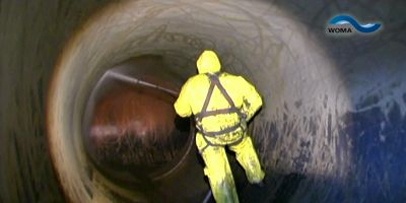 Tankreinigung in der chemischen Industrie