HIGH-PRESSURE WATER AGAINST DEPOSITS AND BLOCKED PIPES.
Pipes are the veins of all facilities in every industry-sector: From pipes with 12 mm internal width to big pipelines, for fluids, solid materials or gases, with vacuums, overpressure or in a constant flow. In order for pipes to fulfil their important functions, deposits must be removed and blockages must be solved.
Washing, cleaning, cutting - pipe cleaning with water
Keeping all types of pipes and channels free is important and necessary for various reasons. Material flow must be unhindered otherwise interruptions in production flow can occur. Professional pipe cleaning is the prerequisite for meaningful inspections; filling and pressure tests as well as leak tests and are used in preparation for repair work. High-pressure water jets can be used for washing and cleaning pipes – inside and outside – as well as for cutting pipes.
With various nozzles, deposits in pipes can be removed or completely blocked pipes cleaned, adapted to the degree of severity. In many cases, pipelines are fixed installations and have few openings for access purposes. In this case, cleaning with high-pressure water is always possible directly on the spot without removing the pipes, even in plants that are difficult to access, be it due to constructions, very high locations or in very confined spaces. In contrast to mechanical tools such as hammers, chisels and brushes, there is no danger of damage during the cleaning. High-pressure water jet technology is a quick, simple and extremely cost-effective process. The cleaning medium water can be simply recycled via a filter.
Cutting of pipes
Pipes must not just be cleaned, they also have to be cut, e.g. to repair damage, to replace sections, to install connections or when demolishing plants. For this, cold cutting with abrasives at 2000 to 3000 bar water pressure is not only an elegant solution but also versatile and economical. Pipes of all wall thicknesses can be cut directly on the spot. This method is free of sparks and can also be used in potentially explosive atmospheres.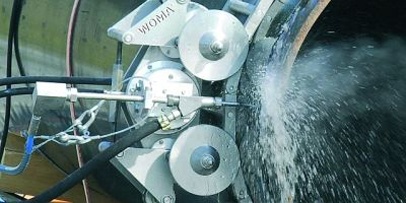 Cleaning of mould in the steel industry