DECONTAMINATION OF SURFACES: SAFE AND CONTROLLED.
In all areas of decontamination, WOMA ultra-high-pressure technologies remove contamination on surfaces to a minimum.
Precise removal of decontaminated surfaces.
WOMA has developed special systems for sophisticated applications in field of decontamination:
Decontamination of nuclear plants and components
Removal of coatings containing heavy metals
Removal of fibre-reinforced coatings and claddings
Cleaning of oily and soot-covered concrete and masonry
Removal of layers in buildings and facilities containing PCB
Washing chemically contaminated soils and sludges
Removal of layers containing PAK and other health-hazard materials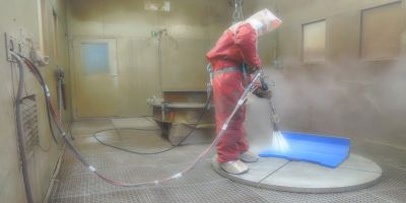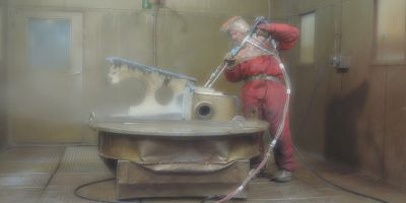 Decontamination means the reduction of health-endangering substances such as radioactive materials, heavy metals and a variety of chemicals to an allowable level or to harmless concentrations. In many cases, contaminants and carrier materials must be removed at the same time. Carrier materials can be coatings, but also sealants or impurities. In addition to the nuclear industry, it is mainly industry, the military and civil defence organisations which regularly use decontamination processes. WOMA high-pressure water jet technology is internationally state-of-the-art in all these areas.
High-pressure water jetting enables and extremely careful and controlled removal of coatings, impurities and deposits without damaging the base material. Neither gases nor slags are produced No chemical or abrasive additives are used in the application, which means that the quantity of material to be disposed of is reduced to a minimum. The result is convincing in all cases: high effectiveness, even in difficult to reach areas, high cleaning quality and a high degree of decontamination.