High-Pressure Water Jetting for the Cleaning of ship hulls and buoys
High-pressure water jetting ensures the best possible cleaning effect of all processes for surface treatment. The residual concentrations of salt, chloride and other substances are minimal.
Effective removal of algae and shells
WOMA high-pressure water jet technology can do much more than just clean ships. This technology fulfils the important tasks in practically all areas of shipping.
What high-pressure jetting can do for ships applies also to buoys, cans and beacons, in docks, on barrages and ship lifts. As with ships, the effective removal of algae, barnacles and other problematical deposits is a core task in the value retention and maintenance of navigation aids and construction plants.
The mobile, compact and flexible-use high-pressure systems from WOMA are available for the highly varied application areas. These systems achieve high cleaning and surface performances. If required, surfaces can roughened and damaged locations exposed in the same working operation.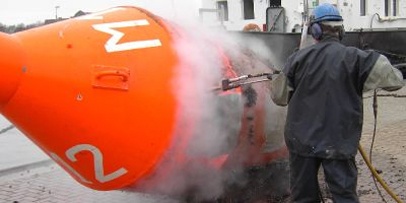 Compatible units and devices